There are many different ways and reasons to use a keepsake box. One of our favorites is presenting it to new parents. They've been dreaming of the day that their family grows from 2 to 3… (or 4 or 5 or 6!) and a keepsake box gives them a way to remember all of the little moments while keeping tiny treasures in a special spot.
When a new mom sees our handmade keepsake box for the first time with their little ones photo on the top, they'll be speechless. If you need more convincing beyond that, below we list 3 more reasons new moms will love a keepsake box for their new baby.
IT'S A TIMELESS PIECE.
Knowing that the treasures in your life are as important to you as they are to us, we knew had to create a beautiful, handmade, and timeless piece to store them in. Too many times a cardboard box is used to store specific items we've deemed as important… but who showcases a cardboard box on their shelf of coffee table? The answer is sadly not many if any! Cardboard boxes typically end up in a closet or the basement.
With our Walnut Wood Keepsake Box, your client will absolutely keep this box in plain site. They may even design around it! The printed acrylic lid takes this product to a different level. Just imagine a mothers face seeing her baby's first photo. She will have the same feeling every single time she looks at it through the years.
Want to put your own touch on it? We made the bottom of the box customizable so you can engrave a special note or place your logo there for branding! Utilizing this space makes keeps the overall design clean and modern.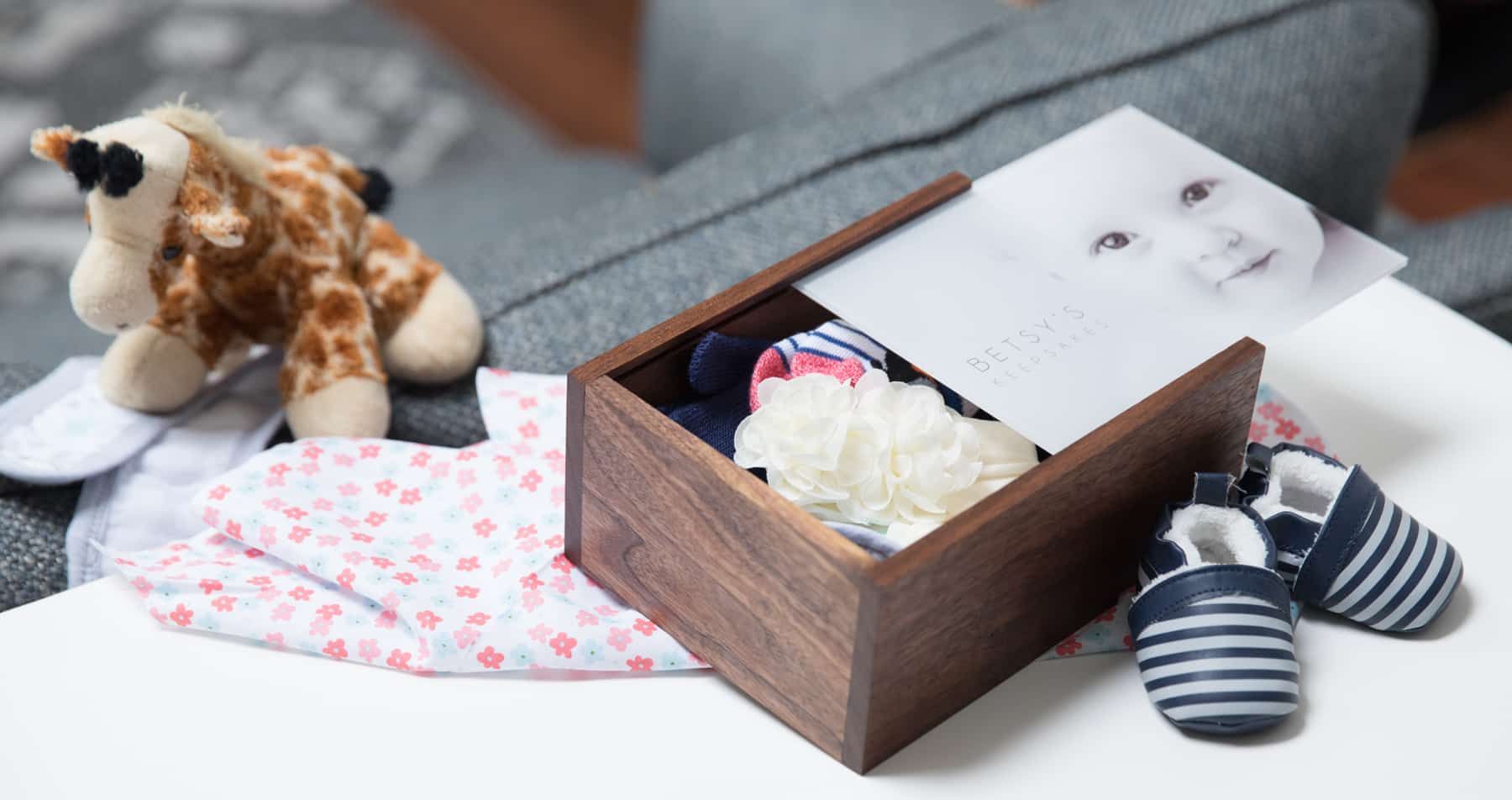 IT DOESN'T TAKE UP TOO MUCH ROOM.
We've designed our Walnut Wood Keepsake Box to be small enough to fit on a shelf but big enough to fit handfuls of treasures. The last thing you want to give a client is something they have no room for. About the size of tissue box, it's the perfect size to hold items that are more than just "things".
It's also easy to transport! For a family that travels to see friends and family, it's an easy object to pick up and move while securely keeping all of the items together.
IT CAN'T HOLD TOO MUCH.
As parents you accumulate a gazillion things. Artwork, pictures, stuffed animals, toys and more. This box can hold quite a few items, but it can't hold TOO many items.The size of keepsake box can only hold the items that are so important you find it crazy to think that they might haphazardly be thrown into a drawer or bin that gets stored in the basement.
The benefit of a smaller keepsake box is not having the urge to fill it. Think about when you bought a storage container for all of your holiday decorations. When there is room left in the box and you see decorations on sale at the store, you have a greater urge to buy those items because you remember having room left. The size of this box makes you choose the items more carefully! Plus babies items are so itty bitty that a large box isn't necessary!
[row padding="0px 0px 0px 0px"]
[col span="4″ padding="0px 0px 0px 0px" align="center"]
[ux_image id="527954″]
[/col]
[col span="4″ padding="0px 0px 0px 0px" align="center"]
[ux_image id="527952″]
[/col]
[col span="4″ padding="0px 0px 0px 0px" align="center"]
[ux_image id="527953″]
[/col]
[/row]
Do you photograph newborns? Give this keepsake box a try (or any of our other keepsake boxes) as a new mother gift, a studio incentive or custom product offering! We're sure your client will be wow'd when they see their baby's photo on this again and again!
[row style="small" v_align="equal" h_align="center"]
[col span="9″ span__sm="12″]
Interested in creating a Keepsake Box?
Grab your favorite photo and click the button below!
[button text="Customize A Keepsake Box" size="xlarge" expand="true" link="https://www.photoflashdrive.com/product/walnut-wood-slide-keepsake-box/" target="_blank"]
[/col]
[/row]