On the previous website, we made bundles containing both packaging and flash drives that fit together. The options were limited and not always a perfect match for your brand. We had many asking for more options which led us to rethink how we offer products.
With Fit Styles the choice of what products you buy together is yours!
You will now be able to see which products mesh well together and be able to create your own winning combination!
There are 4 Fit Styles. They are:
Slim – Designed around our popular Crystal Drives! These drives are narrow and long and have special inserts made to hold them snug! Other flash drives in this category include the Mix and Match Swivel Flash Drives, Metallic Flash Drive, Jerry Ghionis Crystal Flash Drive and the Industrial Metal Flash Drive.
Block – Inspired by our wood drives, these inserts will hold any of our rectangular wood flash drives include the Natural Wood, Bamboo, Vintage Wood, Pastel, and Light and Bright Wood Flash Drives!
Standard – Much of our packaging has an elastic which hold the flash drive. If you see this on a product, that means it's a Standard Fit Style. Stand Fit Style packaging can hold Slim AND Block Flash Drives as well as other shaped drives such as the heart key flash drive, Exotic Wood Flash Drive, our Leather Flash Drives and more!
Universal – We have some packaging that will fit ALL of our flash drives, no matter the size! When choosing packaging marked that it can fit a Universal Fit Style, the world is your oyster!
On flash drive and packaging product pages there is a section that calls out which Fit Style a product can be combined with. In most cases, a product can hold multiple Fit Styles. We even have some universal packaging options that can fit ALL flash drives we offer!
The Fit Style section looks like this: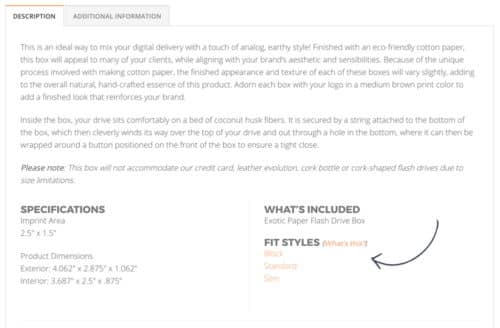 When you click on any of the Fit Style links, you will be taken to that Fit Styles page. Here you'll see some of the most popular products in that style as well as a link to shop all products in that Fit Style like below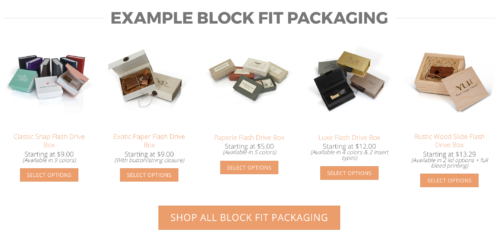 Now you'll always feel confident knowing the products you've chosen truly were made for each other!
Our biggest suggesting we can make is to start with selecting your packaging first. Packaging is what your customer will see first. When you start here you can then find a flash drive that will fit inside instead of finding a flash drive you love and realizing it won't fit in packaging you want to present to your client. Don't worry too much about it though. Many of our products have more than 1 Fit Style creating over 800 options to choose from!
Have questions about Fit Styles or the bundle you have purchased in the past? Reach out to our customer service team by clicking the chat on the bottom right corner of the screen or by emailing us!