Description
BLACKBIRD USB 3.0 HARD DRIVE
It should come as no surprise that not everyone prefers a book of their images, or loose prints to frame. In this day and age, the convenience of having video and images in digital form, on a super speedy drive that can easily fit in almost any bag or pocket is priceless. And don't forget about the peace of mind that comes with being able to backup the precious photographic moments of life.
Our Blackbird USB 3.0 hard drive allows you to give your clients all of these conveniences with a healthy dose of style. The sleek, matte black surface is tempered with silver beveled edges, giving the device an appearance that would fit in nicely in even the most modern of settings. By taking advantage of our laser engraving capabilities, one side of this drive can feature a personal message or logo which will definitely cause people to take notice. An attached 12" cord allows the drive to be plugged into a computer to transfer images/video as well as to provide power to it, so not being near an outlet won't ever slow you down.
Available in three capacities: 500GB, 1TB, and 2TB.
SPECIFICATIONS
Imprint Area (front & back): 2″ x 1.75″
Product Dimensions: 4.812″ x 3″ x .5″
ORIENTATION EXAMPLES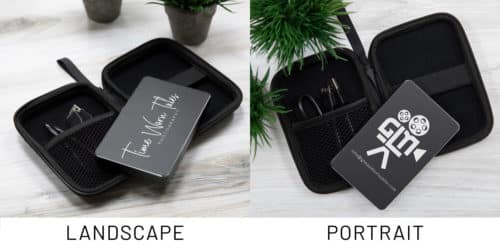 WHAT'S INCLUDED
Blackbird USB 3.0 Hard Drive
12″ USB 3.0 black cord