Description
Walnut Duo Flash Drive
The pinnacle of innovation: the Walnut Duo Flash Drive—part of our all new collection of patent pending Duo products—takes one of our most popular styles (the Natural Wood Flash Drive) and reinvents it to offer the most unique, customizable, dual-interface USB flash drive on the market today.
Features:
Dual-interface USB shared flash memory: easily switch between USB Type-C + USB Type-A
Lightning fast USB 3.0 (even faster than our normal 3.0 drives!)
Capacities: 16GB, 32GB, 64GB, 128GB
Mac, PC, and OTG compatible
Imprint options: laser engraving, full color print, full bleed color print (download the template below)
Real solid walnut wood construction (also available in solid maple wood construction)
Magnetic enclosure
Imprint area: 1.4 in x .75 in, full bleed prints edge to edge
Lifetime Flash Warranty (learn more)
Future-proof the physical delivery of your digital files, and surprise your client with a drive that can be used on so many devices.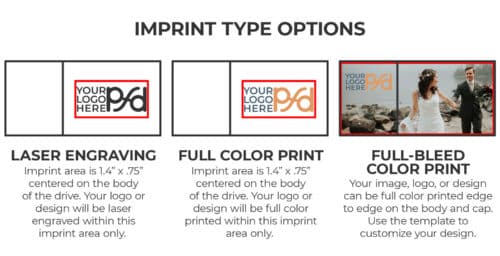 Exotic Paper 5×7 Photo + Flash Drive Box
The Exotic Paper 5×7 Photo + Flash Drive Box will bring it's natural beauty to your delivery. Because of the unique process involved with making cotton paper, the finished appearance and texture of each of these boxes will vary slightly, adding to the overall natural, hand-crafted essence of this product.
As with everything in our Exotic Paper Collection, this box is wrapped in a eco-friendly natural colored cotton paper. Inside the box we provide a layer of coconut husk fibers for the drive to rest. The hinged lid has a small button to wrap the short string around to keep the box closed.
Features:
Imprint option: mid-brown print
Eco-friendly cotton paper with a unique natural finish
Dedicated area for up to 60 5×7 prints
String wrapped button closure
Coconut husk fiber filler
Imprint area: 4.5 in x 3.5 in centered on the lid
Dimensions: 7.75 in x 7.75 in x 1.25 in
The Duo USB flash drive mechanism is patent pending.