Welcome to the new PhotoFlashDrive website! We've been working extremely hard to bring you a new, fresh, experience when it comes to purchasing customized print and digital delivery products.
With a brand new, clean, website comes change. But don't worry! It's not the type of change you need to be scared of. The improvements made on this site catapults it leagues beyond where we were and we're not embarrassed to say that! This is an exciting time for the PhotoFlashDrive Team and we hope it is for you, too!
Before you get started browsing the product catalog, there 6 important things you should know to expect on the new site:
1. What We Could Or Couldn't Moved From The Old Site
We were able to move the following information from the old site:
Usernames and Passwords – You will not need to create a new account. In the case your old password doesn't work, simply click the reset password button on the login screen.
Artwork – As you can imagine, we have thousands upon thousands of artwork files. We are working on uploading them into your accounts so if you don't see them quite yet be patient! If you are needing old artwork right away, contact our customer service via chat or email and we can quickly look it up for you!
We were unable to move the following information from the old site:
Profile Information*: shipping and billing addresses
Past Order History*
Because of this decision, on your first order on this site, you'll need to input your billing, shipping and payment information again. Rest assured that upon checkout, this information will securely be saved to your account and you'll be able to access it for all orders moving forward.
*Need your order history or want know what product you ordered before but can't find a previous receipt or confirmation email? Contact our Customer Service team!  They'll gladly provide you order history, provide you links to products you've ordered in the past and can search for old CLE (artwork) numbers!
2. You Will Be Able To Use Your CLE Artwork Numbers On This Site
While we are migrating away from CLE numbers (they will be called AW (artwork) numbers, instead) you will still be able to utilize them on this site! Simply choose CLE# (legacy) in the Artwork Selection/Upload step of the customizer (shown below) and type in your CLE!

Have you placed an order previously but are unsure of your CLE number?
Contact our Customer Service Team and they will gladly look up this information for you!
3. Bundles Are Now Called Fit Styles
On the previous website, we made bundles containing both packaging and flash drives that fit together. The options were limited and not always a perfect match for your brand. We had many asking for more options which led us to rethink how we offer products. With Fit Styles the choice of what products you buy together is yours!
You will now be able to see which products mesh well together and be able to create your own winning combination!
Learn more about Fit Styles by CLICKING HERE
4. Search And Filter Products As You Wish
Seems pretty simple right? You search for something and the product comes up. Unfortunately on our old site the search capabilities were pretty lackluster. We're excited to announce that A LOT of time and energy and spreadsheets were put into cataloging products and applying filters. In the left column of all category pages are a variety of filter options including Fit Style, Color, Product Style, Material, Customization Type and more!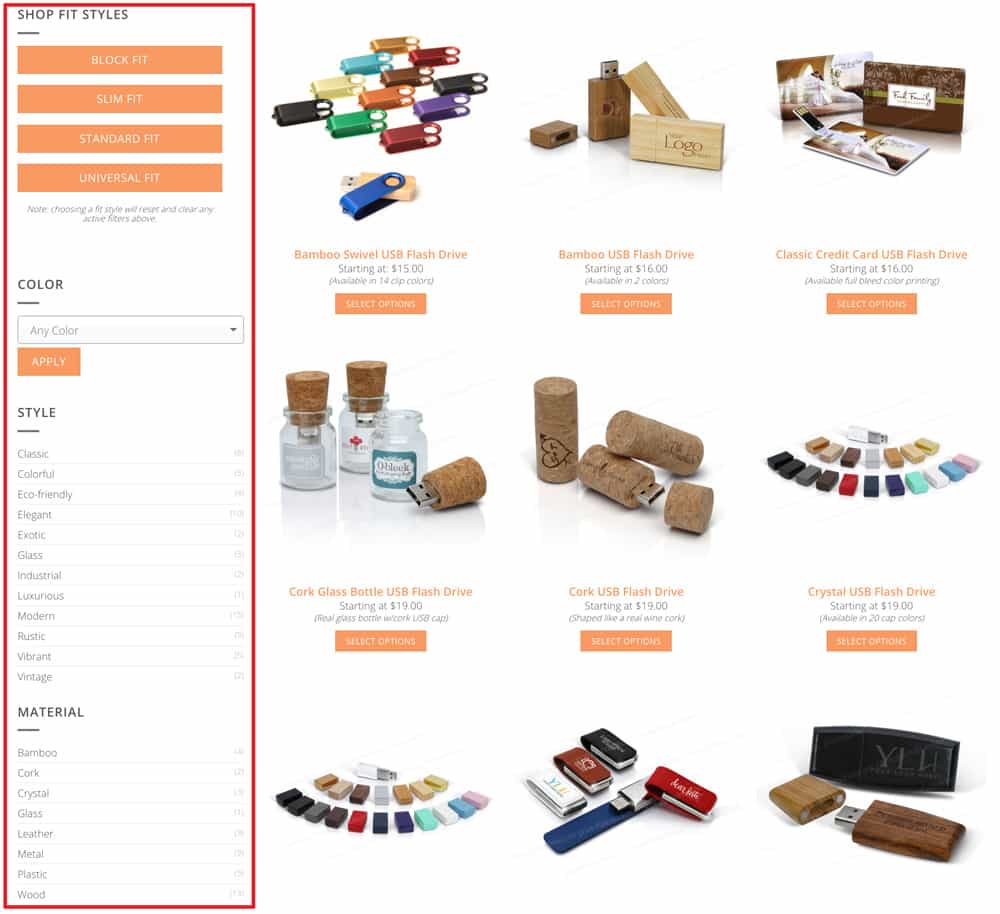 5. There Are 2 Ways To Redeem Old Voucher Codes
Purchased Voucher Codes Before January 1, 2018?You'll need to utilize 1 of the 2 options below for you to redeem your old vouchers. If you have any questions about either option, please Contact Our Customer Service Team
OPTION 1:
Have vouchers you need to use right away? Follow these steps to redeem your codes:
Add any and all product to your cart associated with your voucher.
In the Notes Section in checkout, copy and paste or type all voucher codes you wish to redeem. Please note that this will NOT discount your order's final total.
Submit your order. Once received, our customer service team will apply the vouchers, reducing the price.You'll receive a new order confirmation email showing the final total with vouchers applied. Your order will then be sent to production. At THIS POINT your credit card will be charged (if you owe any money).
Please note that upon submitting your order, a hold will be placed on your credit card for the order's full amount until we have verified your voucher codes. This hold will be released once we finalize your order with the new total but it could take up to 7 days for the hold to be released on your card. Each bank is different.
OPTION 2:
Can't find your codes or don't need to place your order right away? We've created a voucher update form you can fill out for you to use. Filling out this form allows us to look up your codes and then make them available in your account to use moving forward. Please note that this can take up to 24 hours for us to place in your account. If you are needing to place your order right away, please utilize Option 1.
If you need immediate help, try our chat or call us (203-433-0482).
6. The Entire Site Is Now Mobile Friendly
You read right! The website is now mobile friendly. With a responsive platform, you'll be able to browse our product lines, mark your favorite items to be saved to your account and even order if you wish on your phones and tablets with ease! Give it a try!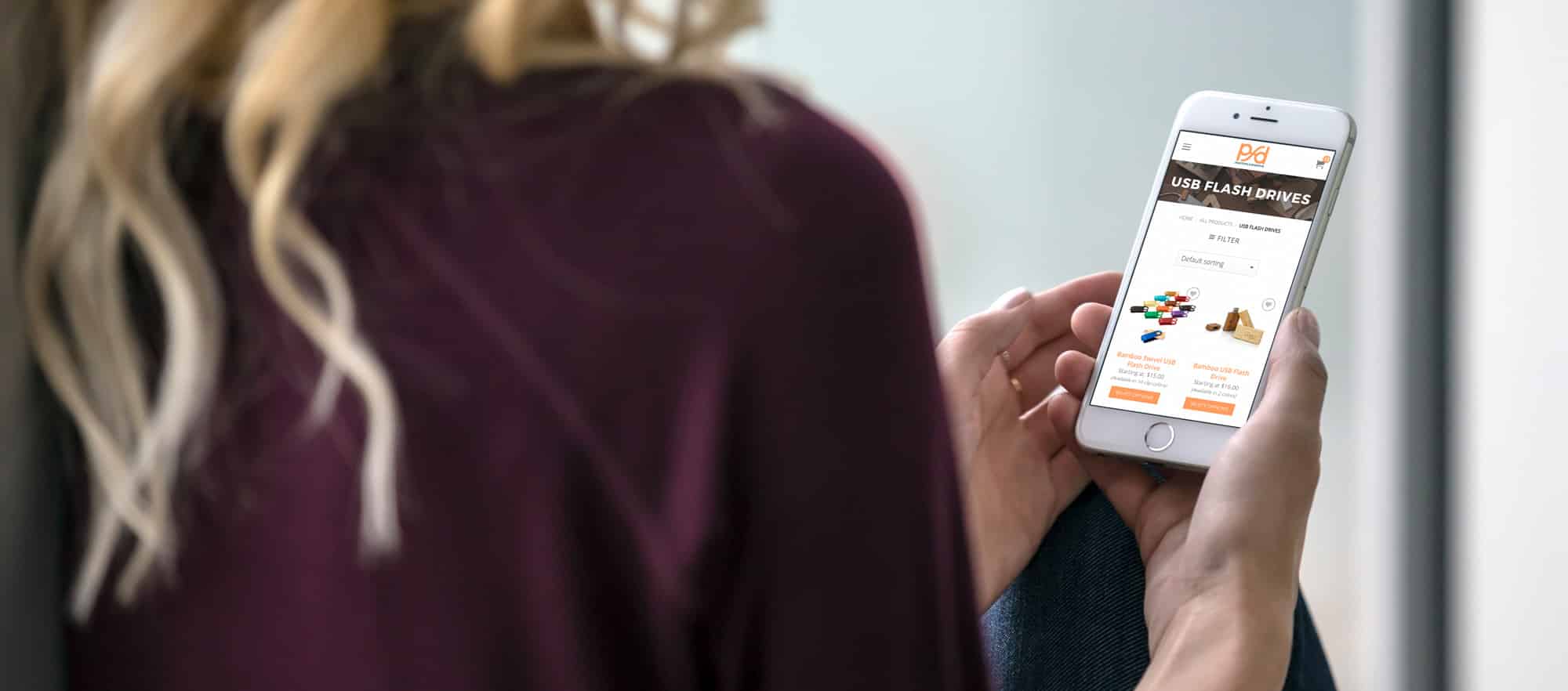 We hope that you enjoy the new site and the functionality we have implemented and cannot wait for you to see what we're working on next! If you have any questions, thoughts or concerns, please feel free to reach out to Brian Campbell, owner, directly. We'd love to hear any and all feedback. He can be reached by email at brian@photoflashdrive.com