We all know the importance of video these days. It's near impossible to browse the internet without getting sucked into at least one. The PlayBook Video Player gives you an opportunity to view videos in a unique way. Simply open the brochure that is no larger than an 8×10" photo and the video starts playing. Need some inspiration on how you can utilize a video brochure? We've detailed 7 creative ways to use the PlayBook below!
1 – Deliver A Slideshow of Images
Enhance your photo delivery by creating a slideshow of your final images and delivering them in a fun way that will have your clients showing all of their friends and family what they received. Need help creating a slideshow? We suggest using Animoto or Adobe Spark to easily make a video of your photographs.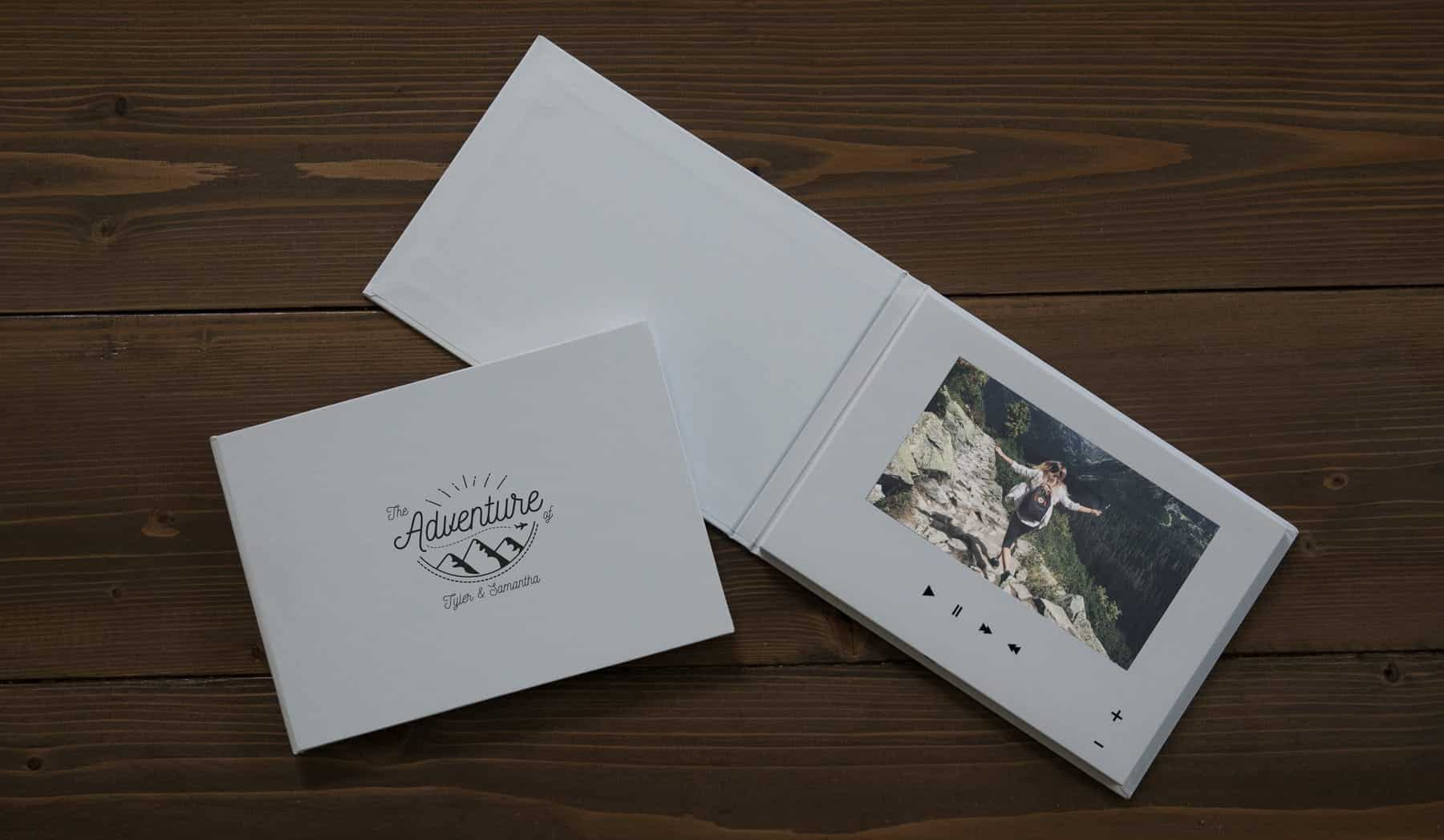 2 – Same Day Edit Delivery
Brides and grooms who purchase a Same Day Edit package expect to see their film at the end of the night. Wow them by delivering it in style.
"We do a lot of same day edit wedding films, so imagine the surprise when I hand one of my couples a customized Playbook with their same day edit wedding film loaded on it!" – Ning Wong, Ning Wong Studios
3 – Use As A Time Capsule
We all remember building a time capsule as a kid. You chose items, placed them in a container and put that container somewhere (maybe you buried it like I did!) with the idea that you wouldn't open it for years. Consider using a PlayBook as a time capsule for a newborn. Families members can record themselves giving advice, telling a story or simply expressing their love. Then when the child is a teenager, they can see their family and friends from years ago. This can be incredibly powerful if any family members or friends have passed during this time.
4 – Send A Playbook To Someone In The Military
While in the military, notes and packages from home are prized possessions. Unlike a letter, the person you send to will now be able hear AND see those wishing them the best. Plus, if they have access to a computer, you can send them new videos that they can easily load onto the PlayBook. This comes in handy when/if they move to a remote location where internet is not available.
5 – Showcase Your Portfolio
When a client comes in for an initial meeting, what do you show them? Likely printed photos or images and videos on your computer. Using a video brochure allows you to easily change out what you showcase. If you are a wedding photographer and know that the couple wants their dog involved in the wedding, you can quickly edit a slideshow of images to showcase some with furry friends. Then, simply drag and drop the file to the PlayBook. You now have a completely tailored marketing piece for that couple!
"The PlayBook is going to be a game changer for KSS! When a client comes in for their initial meeting, we can grab our beautifully branded PlayBook, load images geared towards that specific client and watch the magic happen!" – KiaMarie Stone – KSSPhotos

6 – Use Storytelling When Fundraising
When people feel connected to a cause they are more inspired to help. Using videos are a great way to tell a story and PlayBook offers a hands on experience. Consider sending a PlayBook to large donors or prospects to connect with people emotionally. You can expect a different reaction compared to what you would receive when sending an email.
7 – Showcase Testimonials
Attending a tradeshow soon? Include some video testimonials on your PlayBook so your prospects can hear from your other clients why they should chose you! This is way more cost effective than asking your previous clients to travel with you to these shows!
—
Showcasing your video and images on a PlayBook will impress anyone who has it in their hands. Whether you are trying to gain business or simply delivery your files, using the PlayBook Video Brochure will offer an experience unlike anything else. Interested in customizing a PlayBook or two for yourself?