Description
RUSTIC WOOD SLIDE PHOTO BOX
The attention to detail and care you put into making your client's prints perfect will be rewarded when they are placed inside our Rustic Wood Slide Photo Box.
Smooth pine finish. Natural blonde color. Mesmerizing wood grain pattern. The beauty of the natural world is on full display from the second your clients receive this impressive wood slide box. But once the removable, fully customizable lid is slid all the way off, revealing your client's prints, the mastery of your artform takes center stage. Currently available to accommodate 4×6, 5×5, and 5×7 print sizes, each box includes a length of brown ribbon to be used to bundle the prints together making it easy to remove them as a group. Lids are available in rustic pine, clear acrylic and metal.
Important to note: Images with a lighter color palette tend to appear overexposed when printing on the Clear Acrylic lids. For best results, we recommend darkening your image by 30% prior to uploading.
SPECIFICATIONS
Normal Imprint Area
4×6: 4″ x 3″
5×5: 3.5″ x 3.5″
5×7: 4.5″ x 3.5″
Full Bleed Imprint Area
4×6: 6.625″ x 6.625″
5×5: 5.625″ x 7.625″
5×7: 7.625″ x 7.625″
Product Dimensions
4×6
Exterior: 7″ x 5″ x 2.125″
Interior: 6.25″ x 4.25″ x 1.5″
5×5
Exterior: 6.125″ x 6.125″ x 2.25″
Interior: 5.375″ x 5.375″ x 1.5″
5×7
Exterior: 8″ x 6″ x 2.125″
Interior: 7.25″ x 5.25″ x 1.5″
Print Capacity
4×6: 100
5×5: 100
5×7: 100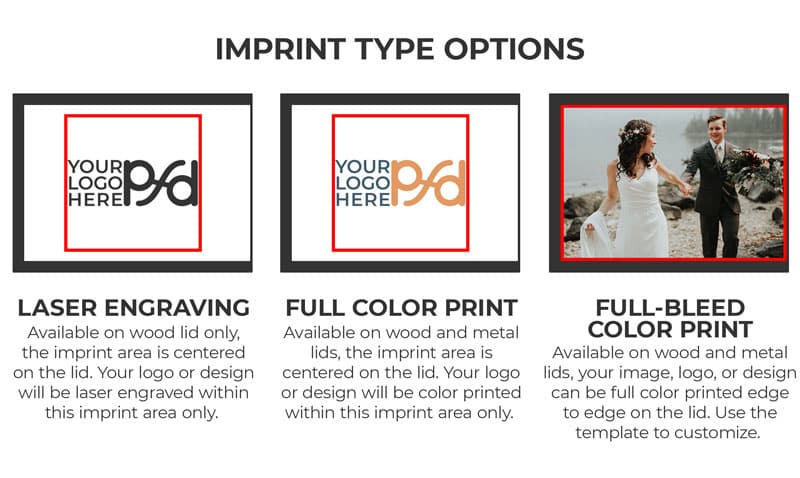 WHAT'S INCLUDED
Rustic Wood Slide Photo Box
Wood, clear acrylic or metal lid
Brown ribbon
TEMPLATE DOWNLOAD
Click to download the appropriate full-bleed template for the size box you're purchasing.