Description
RUSTIC WOOD SLIDE PHOTO + FLASH BOX
Our Rustic Wood Slide Photo + Flash Box, constructed entirely from rustic pinewood, offers a 1-2 punch for your image delivery needs. Not only is the physical box an ideal way to present your clients with their finished product, but the unvarnished color of the box will make its contents absolutely pop out to the viewer when the lid is removed.
These boxes are available in 4×6 and 5×7 sizes and can hold up to 100 prints in the dedicated print compartment. A length of brown ribbon is included with each box so the prints can be easily accessed and kept in a tidy bundle when placed into, or removed from the box. The smaller, adjacent inside compartment contains a bed of Aspen wood wool in order to provide cushioning for up to two flash drives that can be accommodated in the space. The fully removable lid opens and closes by sliding along a groove in the box top. Lids are available in wood, clear acrylic and metal. Customization of the lid is possible with options for laser engraving or full-color printing.
Important to note: Images with a lighter color palette tend to appear overexposed when printing on the Clear Acrylic lids. For best results, we recommend darkening your image by 30% prior to uploading.
SPECIFICATIONS
Normal Imprint Area
4×6: 4″ x 4″
5×7: 4.5″ x 4.5″
Full Bleed Imprint Area
4×6: 6.693″ x 6.653″
5×7: 7.627″ x 7.627″
Product Dimensions
4×6, 100 prints
Exterior: 7″ x 7″ x 2.1″
Interior: 6.2″ x 6.2″ x 1.5″
5×7, 100 prints
Exterior: 8″ x 8″ x 2.1″
Interior: 7.2″ x 7.2″ x 1.5″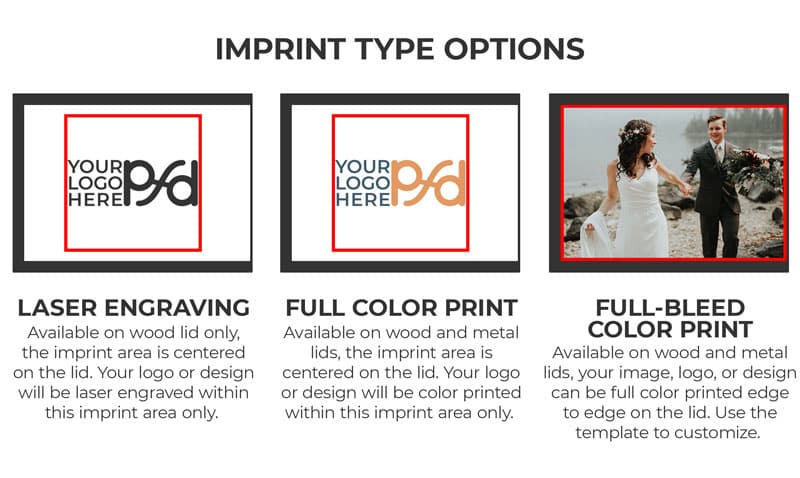 WHAT'S INCLUDED
Rustic Wood Slide Photo + Flash Box
Brown Ribbon
Wood wool filler
TEMPLATE DOWNLOAD
Click to download the appropriate full-bleed template for the size box you're purchasing.