Description
WALNUT WOOD SLIDE FLASH BOX
Perfect angles. Clean lines. Precise craftsmanship. The Walnut Wood Slide Flash Drive Box with sliding lids are a thing of beauty that even Frank Lloyd Wright would be a bit envious of. Ideal for your clients who admire design and can recognize its importance in every facet of their lives, these boxes will certainly do more than simply work to deliver images one time.
Constructed to our exacting standards, each box is made by skilled craftsmen in our woodshop here in Connecticut. Being able to monitor the quality and beauty of each box is something we are proud of, and think that your clients will appreciate. The beautiful form of each piece is backed up by the unmistakable function. The quarter-inch thick walls provide rigidity to the overall structure and protection to its contents. A groove notched out of the inside of the box walls allows for a metal, wood, or acrylic lid to serve as the unique opening and closing mechanism. All materials may be customized to your liking with options for laser engraving or full-color printing capabilities. Inside the box a flash drive of your choosing rests safely upon a bed of eco-friendly wood wool whose blonde color compliments the dark color of the box.
When presenting this item to your clients, leave your words at home. The box will do all the talking.
Important to note: Images with a lighter color palette tend to appear overexposed when printing on the Clear Acrylic lids. For best results, we recommend darkening your image by 30% prior to uploading.
SPECIFICATIONS
Imprint Area (lid top)
Laser Engraving: 2.5″ x 2.5″
Full Color: 2.5″ x 2.5″
Full bleed (edge to edge): Please use template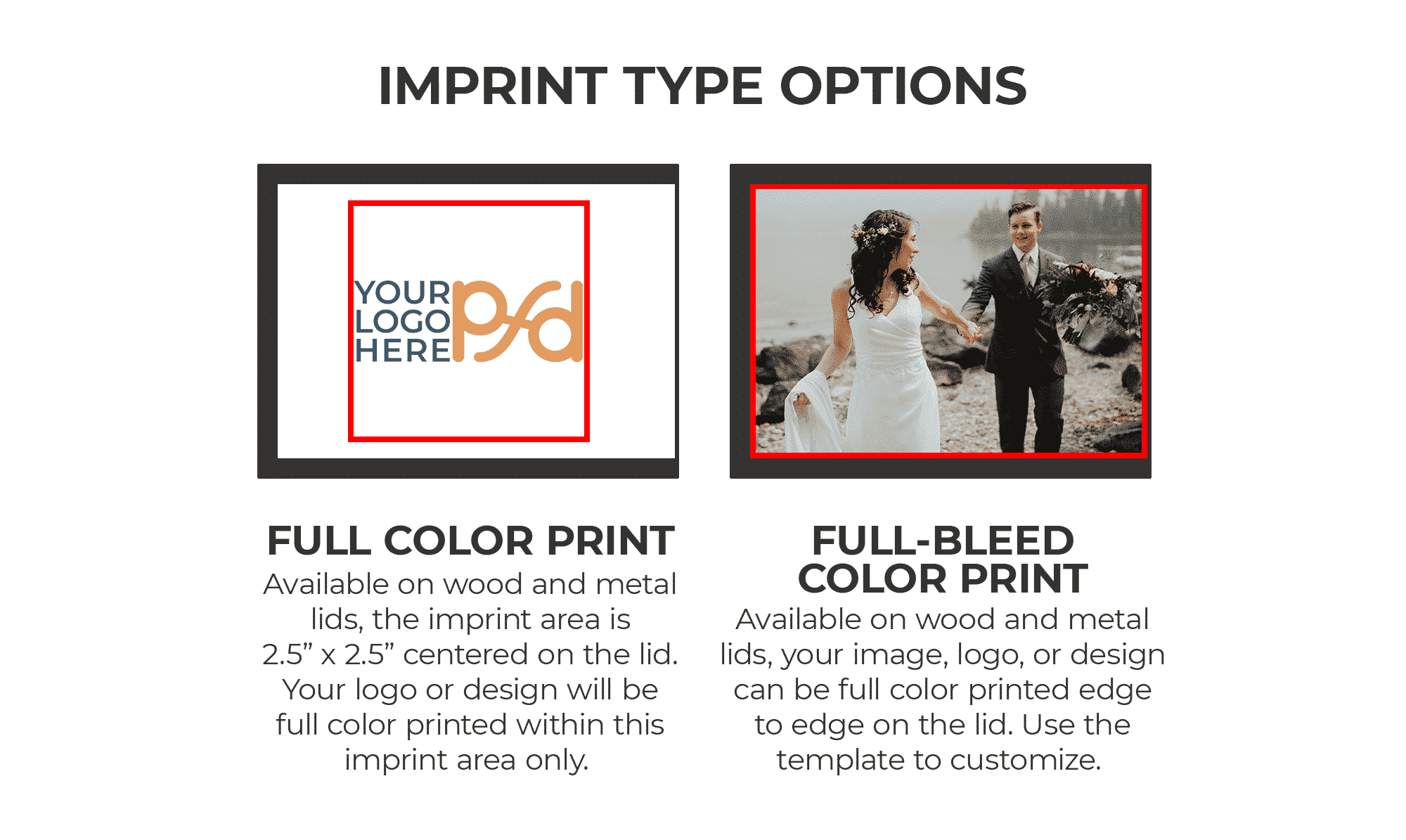 Product Dimensions
Exterior: 4.2″ x 3.7″ x 1.7″
Interior: 3.4″ x 2.9″ x 1.1″
WHAT'S INCLUDED
Walnut Wood Slide flash drive box
Wood wool or green moss (+$1.50) filler
TEMPLATE DOWNLOAD
Click to download the full-bleed template.