Nichole Marie Boudoir
Located in Sebastian, Florida, Nichole Marie is the owner/photographer of her boudoir studio. Her all female team is known for their uplifting and welcoming attitudes that will make the most timid person feel confident and comfortable!
"Our goal is to help our clients regain a piece of feminine power they feel they've lost; their confidence!"
How do you use our products in your business?
Our clients are in love with our glass photo box! Each client receives an entire collection of their photo shoot in 4 x 6 print when they order our glass box. Because they get every single image from their shoot, it is most commonly the product that is added on to our clients' purchases. It makes a great gift for a significant other as well!
In our 'build your own collection' offering, clients frequently pair our branded USB that includes five of their favorite digitals with the glass box.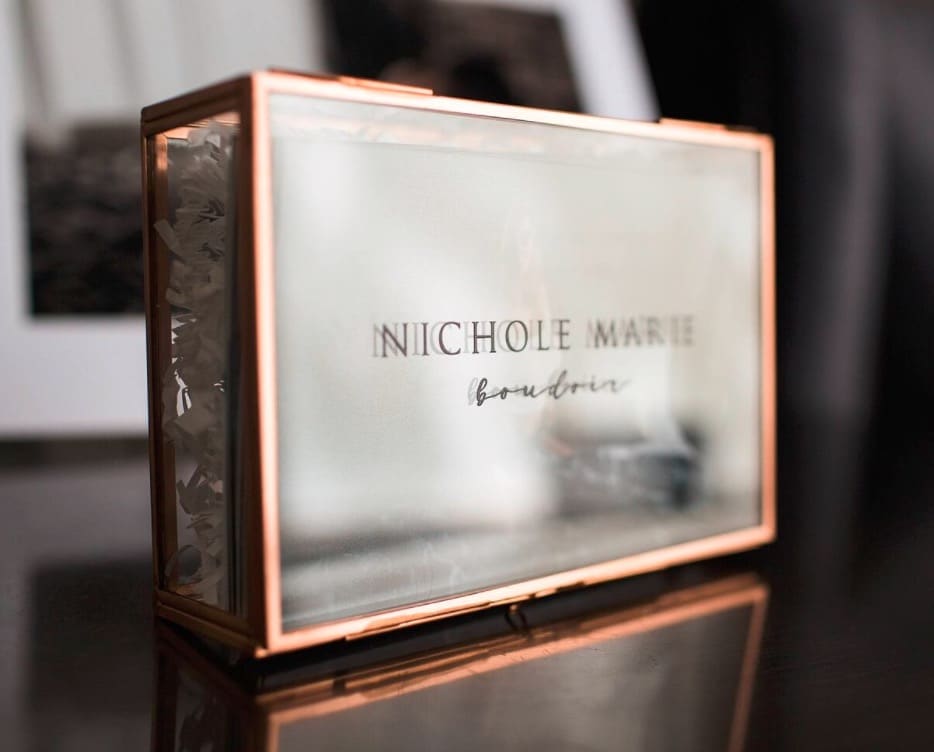 Why are branded/custom products important to you?
I feel by having my brand on the box it really sets my business apart because it makes us a little bit higher end than having a box that is plain. It also works as a passive form of marketing when years from now people will see the brand on the box!
Why did you choose this specific product?
It's a great size for a gift. It's sleek and luxurious looking, and it is made from good quality materials.

ADD ANY OF THESE 4 ITEMS TO THE GLASS PHOTO BOX FOR THE ULTIMATE WOW

Describe the reaction your clients have when seeing this product:
When our clients sit in front of us at the table and go over all of their options for purchases, nine times out of 10 they pick up the glass box and say "I LOVE THIS! It's so cute and I definitely want to add this."